Take Action: Keep Canola Out of the Willamette Valley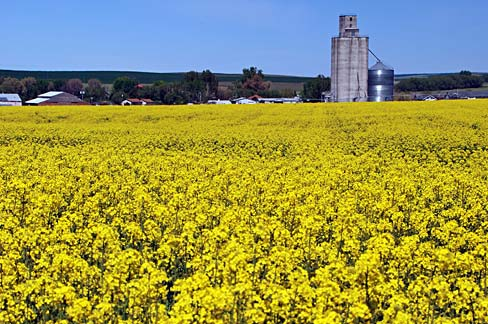 The Willamette Valley is known worldwide for producing high quality vegetable and cover crop seed that farmers and gardeners around the region and the world depend on. Many are in the brassica family, which includes cabbage, kale, broccoli and more (often referred to as specialty seed). For decades, canola (also in the brassica family) has either been prohibited or tightly limited inside a designated Willamette Valley Protected District because it can easily contaminate vegetable and cover crop seed fields.
Currently there is a 500-acre limit of canola that can be grown in the Willamette Valley to protect specialty seed production, but it expires on July 1. The Oregon Department of Agriculture (ODA) has proposed new rules for how to proceed, but they fall far short of what is necessary to protect the unique attributes of the Willamette Valley's specialty seed industry. Unfortunately, ODA's proposal includes no cap on canola acres, doesn't prohibit herbicide tolerant or genetically engineered canola varieties, and leaves many small, independent vegetable seed producers unprotected from unlimited canola production near them.
Let ODA know you want to protect small scale vegetable seed production!
Comments are due June 21: Click here for more information and sample talking points
Willamette Valley seed producers maintain a well-organized system of isolation distances and rotations to ensure seed purity. In contrast, canola is grown on a much larger scale for oil production, not for seed purity. Canola can also spread many of the same plant diseases that impact other brassica crops. And unlike all the other brassicas, the vast majority of canola is genetically engineered, creating extra risks of contamination.
Legislature Enters Final Stretch - Support Sustainable Ag!
The Oregon Legislature has entered it's final push, with plans to adjourn by the end of June. The fate of many key farm and food bills is still up in the air as State Legislators sort out funding priorities in the powerful Ways and Means Committee. Right now is a very good time to contact your State Legislators and urge them to support the following bills:
SB 885 - Maintains current cap of 500 acres per year of canola in the Willamette Valley to protect specialty seed growers.
HB 3085 and HB 3090 would create new beginning and small farmer assistance and loan programs
SB 727A would provide funding for Double Up Food Bucks programs at farmers markets and other farm-direct locations statewide to support access to healthy food for low-income Oregonians and direct economic benefits for farmers.
HB 2020 to address climate change and support climate-friendly farming practices through a new Climate Investment Fund.
These are just a handful of the bills awaiting action in the Ways and Means Committee before the session adjourns. Read more about the current state of play of these and many other food and farm bills in our latest 'Muckboots in the Capitol' blog post.
Do you raise animals on pasture or are you considering it? Do you want to take your pasture management to the next level? Then sign up today for 'Grazing, Soils, & Pastures: An Intensive 3-Day Workshop' brought to you by FoFF's Oregon Pasture Network taking place June 13-15 at the Beavercreek Grange in Oregon City.
This course will be led by Dr. Woody Lane of Lane Livestock Services and will cover topics like: how to decided when to move animals on or off pasture; interpreting soil tests; gauging the nutritional value of forages; which forages are best for different seasons and purposes, and more! This course is open to livestock owners and prospective livestock owners interested in raising animals on pasture and learning more about cutting edge grazing practices that can help improve environmental and animal health while increasing your bottom line.
There is a lot in store for the Oregon Pasture Network (OPN) in 2019, including several "Potluck and Pasture Walks," casual events where local farmers can learn from each other, talk pasture, and enjoy good food. Email us for details on upcoming pasture walks in Prineville and Springfield and apply to join the OPN. If you are an eater who would like to enjoy the great products raised by members of the OPN, be sure to check out our online Pasture-Raised Product Guide.
Dine Out for FoFF in June at Dove Vivi in Portland!
Do you love to eat great pizza while supporting a good cause? We are excited to once again partner with Dove Vivi Pizza in Portland for the whole month of June. Every Tuesday Dove Vivi will generously contribute 10% of the day's proceeds to Friends of Family Farmers. Try their sustainably, Northwest-grown cornmeal and flour crust pizza and dine out for FoFF. Dove Vivi is located at 2727 NE Glisan St. You can view their menu and other details at www.dovevivipizza.com.
Small Farm School July 18!
Small Farm School is a full day event featuring hands-on workshops and classroom sessions for beginning and experienced, small-scale farmers and rural landowners alike. Small Farm School is Thursday, July 18, 2019 from 8:30am to 4:30pm in Oregon City at Clackamas Community College. Registration is open through July 11. Early bird registration runs until July 2: $75; July 2 – July 11: $85. Find a schedule and register here.