National Farmers Market Week - Take Action and Support Family Farmers!
Did you know that August 5-11 is National Farmers Market Week? That's why we are urging our supporters to Take Action to Support Family Farmers by visiting your local Farmers Market this week and throughout the rest of the growing season!
Supporting local Farmers Markets is a great way to show that you value the positive impact that Farmers Markets bring to your community. When you shop at a bigger grocery store, farmers and ranchers receive just 15 cents of every food dollar that you spend, with profits often leaving the state. But at a Farmers Market, 100% of your food dollar goes to your local farmer. Upwards of 90 cents of every dollar spent at a Farmers Market stays at the local level. By shopping at Farmers Markets, you are supporting the local economy and local, sustainable agriculture.
Oregon boasts at least 150 Farmers Markets, which often feature fun events, live music, cooking classes, and vendors of all types of local produce and other farm products. There are Farmers Markets taking place somewhere in the state nearly every day of the week. To find a Farmers Market near you, check out the Oregon Farmers Markets Association's Market Finder tool, or USDA's National Farmers Market Directory.
Friends of Family Farmers will be tabling at a number of upcoming markets. Stop by our booth at one of the following and say hello!
Wednesday, August 8, 2 - 7pm - People's Farmers Market - 3029 SE 21st Avenue, Portland
Saturday, August 11, 9am - 3pm - Salem Saturday Market - at the corner of Summer & Marion Streets, Salem
Saturday, Sept. 15, 9 am - 1 pm - Corvallis Farmers Market - 1st and Jackson, Corvallis
Saturday, Sept. 29, 9 am - 1pm - Albany Farmers Market - 4th and Ellsworth, Albany

InFARMation Returns August 11 - All About Pastured Beef
Learn about where your food comes from at InFARMation this Saturday, August 11th from 3-7 pm at Our Table Farm (13390 SW Morgan Rd, Sherwood, OR). The free event will include a farm tour from 3-4pm, wood fired pizza, draft beer, kombucha, and other refreshments for sale in addition to a panel discussion on pasture-raised beef.
Our panel of experts will include Jared Gardner of Nehalem River Ranch, Rich Butler of Verdant Hills Farm, Narendra Varma of Our Table Farm, Dr. Antonella Aguilera-Ruiz of Slow Food Portland, and Liam Pelot, owner of Dick's Kitchen. Free for all, family friendly!
The next three InFARMations will be hosted at Lagunitas Community Room in Portland: September 25th on Poultry, October 9th on Pork, and November 13th on Dairy.
At these events, you will hear directly from farmers and ranchers from the Oregon Pasture Network as they tell their farm stories and give you all the information you'll need to be a more educated consumer of pastured meat and dairy products. Other panelists include chefs, processors, butchers, doctors, and policymakers. At each of these events, we hope to introduce consumers to food producers on the cutting edge of sustainability, and to clear up confusion around definitions and distinctions between pasture-raised, free range, organic, grass-fed, and more.
If you can volunteer to help the events run smoothly and/or get the word out to folks about InFARMation, please email Michele@friendsoffamilyfarmers.org.
Business Spotlight - Farm Spirit
This month, we are highlighting one of our newest business supporters, Farm Spirit in Portland, a truly farm-to-table restaurant that "celebrates the intersection of craft: foragers, farmers, cooks, potters, winemakers, and brewers." Farm Spirit celebrates Cascadia by carefully sourcing all produce – including nuts, grains, and oils – from less than 105 miles away from the restaurant. Guests are able to witness the creation of each dish and learn the inspiration behind each plate, as each course is prepared right before the diner at the Chef's counter. With each plate there is a story.
Farm Spirit hosted a 'Dine Out for FoFF', which provides a way for restaurants and other food businesses to support our work on behalf of Oregon's family farmers and ranchers. If your restaurant would like to host a 'Dine Out for FoFF' or join our Business Circle please contact Shari today!
Financial Assistance Available for Farmers Impacted by Wildfire
The Oregon office of the USDA Natural Resources Conservation Service is making emergency funding available to help farmers in Wasco, Sherman and Morrow Counties impacted by the devastating wildfires that have taken place this summer. According to NRCS, "the financial assistance will help landowners offset the cost to perform critical post-fire conservation practices that will combat soil erosion, restore vegetative ground cover, and control the spread of invasive annual grasses such as cheatgrass and medusahead, which are prone to increase after a fire. Conservation activities include planting range grasses and cover crops to protect damaged soil; spraying herbicides for weed control; prescribed grazing; obstruction removal, and more."
The funding is available through the Environmental Quality Incentives Program (EQIP). If you are a farmer in Wasco, Sherman or Morrow County in need of post-fire assistance, or know someone who is, learn more and contact the Oregon NRCS today. Upcoming deadlines are August 10 and 24.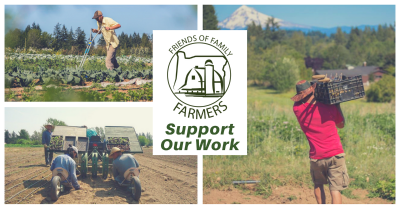 Contact Us
Friends of Family Farmers
249 Liberty St NE, Suite 212
Salem, Oregon 97301
503-581-7124
info@friendsoffamilyfarmers.org
www.friendsoffamilyfarmers.org
| | |
| --- | --- |
| | We bring together farmers and citizens to shape and support socially and environmentally responsible family-scale agriculture in Oregon. |