Fill Your Pantry Portland and Squash Sagra Celebration December 3! Preordering Begins November 8.
The 3rd annual Portland Fill Your Pantry will be taking place on Sunday, December 3rd from 11am-3pm at The Redd on Salmon St. This one-day community bulk buying event is a great opportunity to meet and support your local farmers and ranchers. Preordering runs from November 8th - November 28th for bulk quantities of storage items like locally grown winter squash, onions, garlic, cabbage, pasture-raised meats, honey, beans, grains, fruits and much more. Watch www.FriendsofFamilyFarmers.org/FYP for event updates and to pre-order.

But there's more! On the same day in the same location, we are co-hosting the Squash Sagra Festival with the Culinary Breeding Network and the OSU Squash Project. The Squash Sagra Festival is a celebration of winter squash. Local chefs will discuss flavors and culinary uses of the diverse squash you see in the market all winter long. Learn from chefs as they demonstrate safe and simple squash cutting. Sample delicious, easy and innovative winter squash recipes. Squash scientists will school you on squash history and which squash to eat when - some are not even tasty until January or February! There will be kids' activities and squash pizza, sauces and other treats to taste and buy! Find out more at www.eatwintersquash.com.
Check out our calendar on the right for details about local Fill Your Pantry events coming up in Hood River, Corvallis, Eugene, and central Oregon.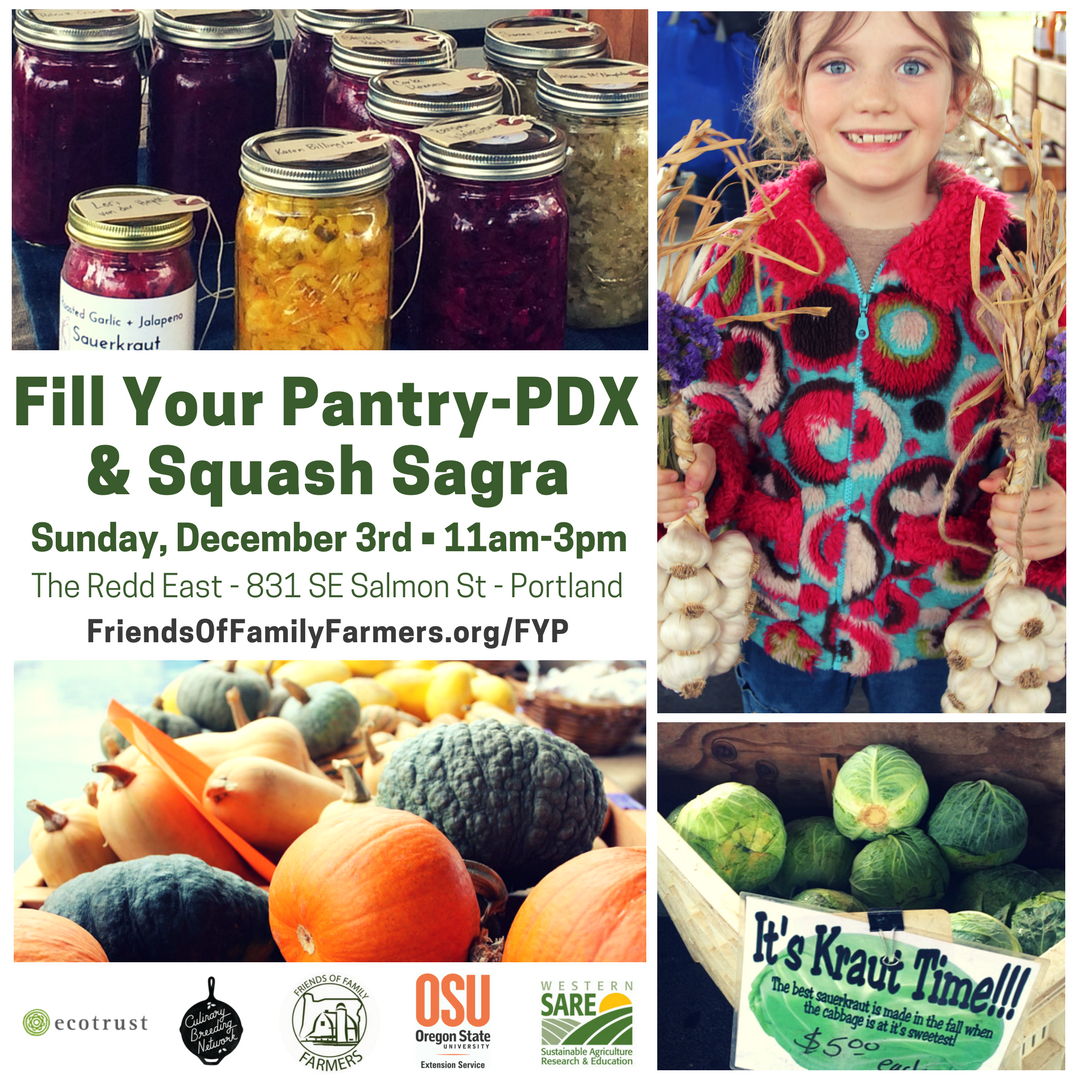 Raise Your Voice for Small and Mid-Sized Farms in Oregon's Climate Bill!
Oregon Legislators are planning to introduce a 'Clean Energy Jobs' bill for consideration in the short February 2018 Oregon Legislative Session. As proposed, this bill would create a 'cap and invest' program that would both cap some of the greenhouse gas emissions responsible for climate change, and invest new money into activities that reduce greenhouse gas emissions.
A legislative work group focused on Agriculture, Forestry, Fisheries, Rural Communities and Tribes has been taking input and debating the proposal, and big questions remain, including:
Whether major individual sources of methane at the largest Concentrated Animal Feeding Operations (CAFOs) will be required to reduce methane emissions, or whether they'll even be required to simply report annual greenhouse gas emissions like other major industrial sources in Oregon already do.
Whether money will be made available for smaller and mid-sized farms and ranches to engage in climate friendly practices like increased use of cover crops, diversified crop rotations, reducing or eliminating use of petroleum-based fertilizers, organic transition and research, rotational grazing of livestock, and establishment of perennial pasture.
In our view, a well designed 'cap and invest' program could create significant new resources for climate friendly practices on small and mid-sized farms, while ensuring that the largest individual agricultural sources of greenhouse gas emissions would not be exempt from the greenhouse gas emissions cap or reporting requirements.
Friends of Family Farmers is very engaged in this process, and we will provide further updates as they become available. Please sign our petition in support of an Oregon climate bill that supports small and mid-sized farms and to let us know this issue is important to you.